Restaurants
Enjoy a unique culinary experience during your stay. Chef Anthony Carballo's tasty dishes awaken his guests' senses and create a true taste experience.
Notes, gourmet restaurant
La Nauve's gastronomic restaurant has been conceived as a precious jewel case for an absolute experience combining great cuisine and great hospitality. Intimate, with just twenty covers, the gastronomic table is sumptuous, like a Napoleon III salon. With its rich mouldings and mirrors, the restaurant has been lovingly restored and serves as the backdrop for the carte blanche tasting, with four or seven courses.
The Notes gourmet restaurant is open Wednesday to Friday from 7.30pm to 9.30pm, and Saturday and Sunday from 12.00pm to 2pm and from 7.30pm to 9.30pm.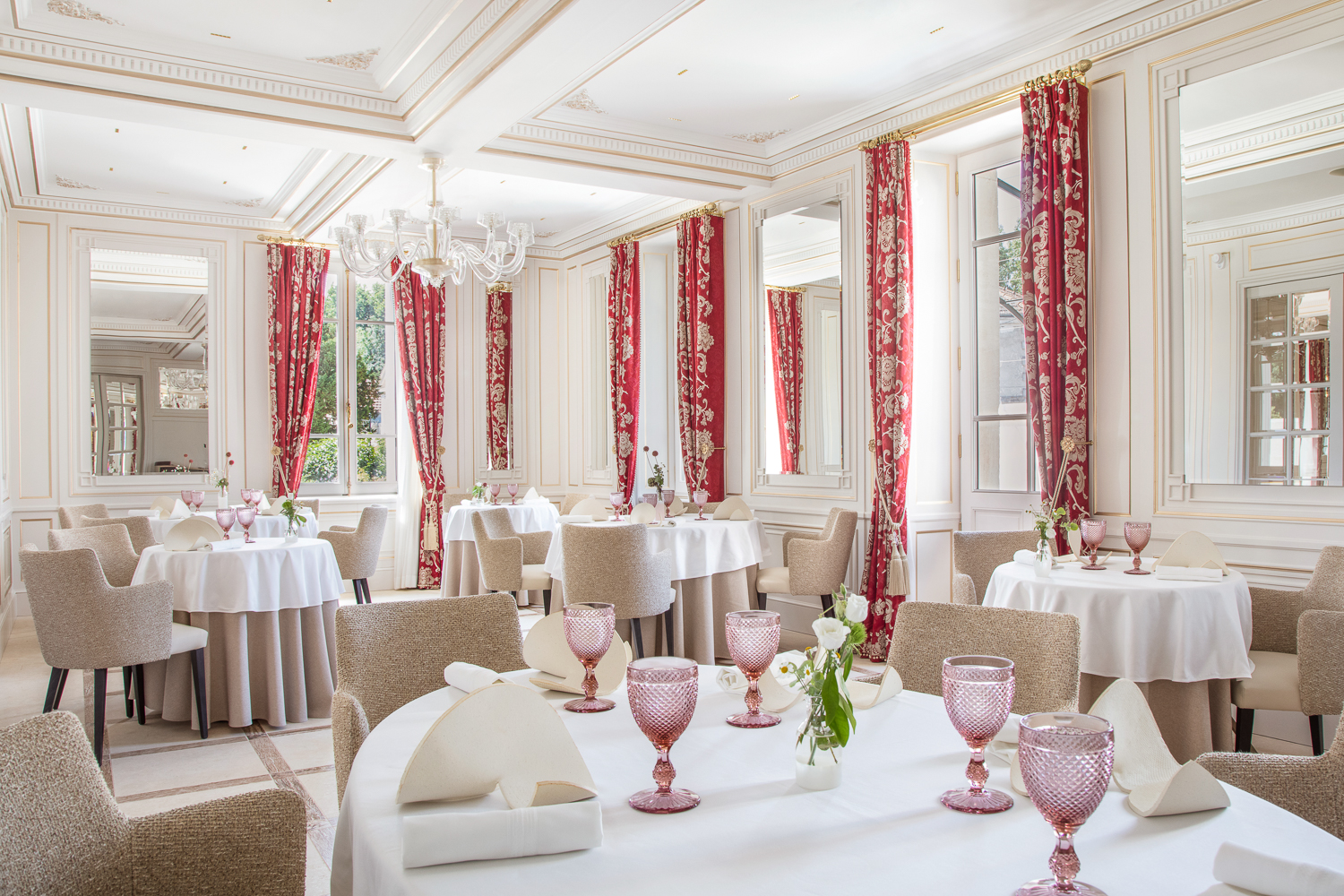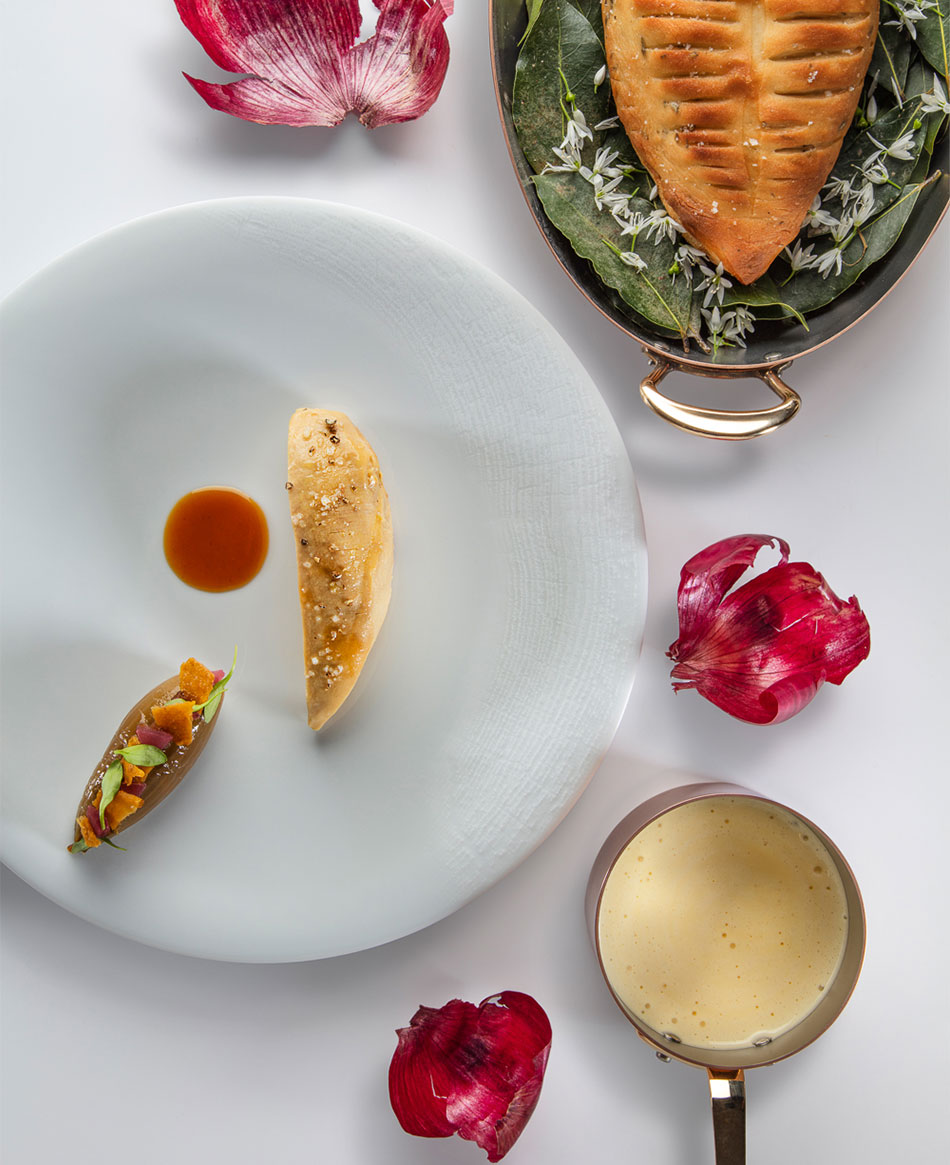 La Brasserie des Flâneurs
The Brasserie des Flâneurs has around fifty covers and a communal table for up to 16 people. The menu focuses on seasonal produce, depending on what is harvested and available that day.
The Brasserie des Flâneurs is open every day from 12.00pm to 14.30pm and from 19.30pm to 21.30pm.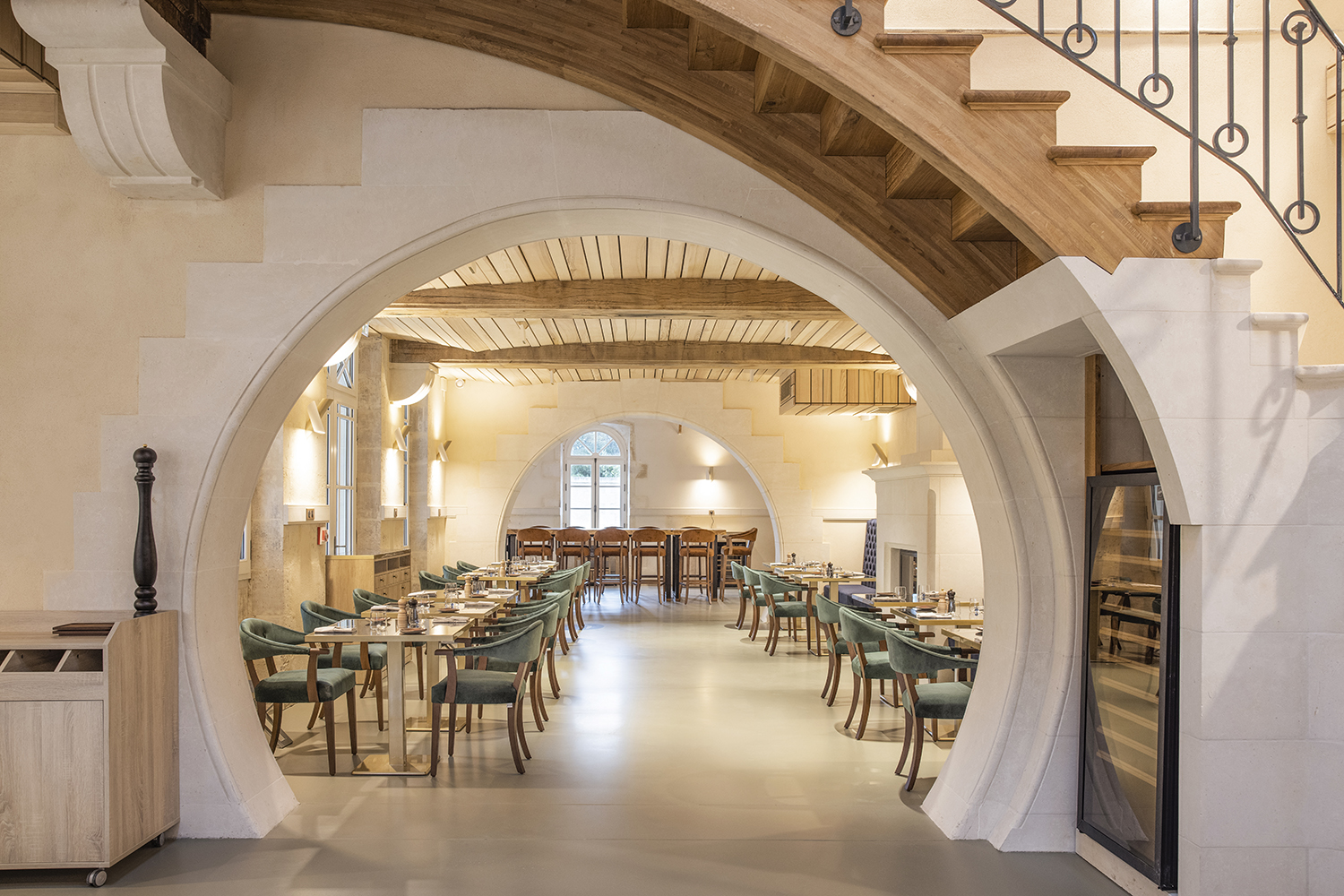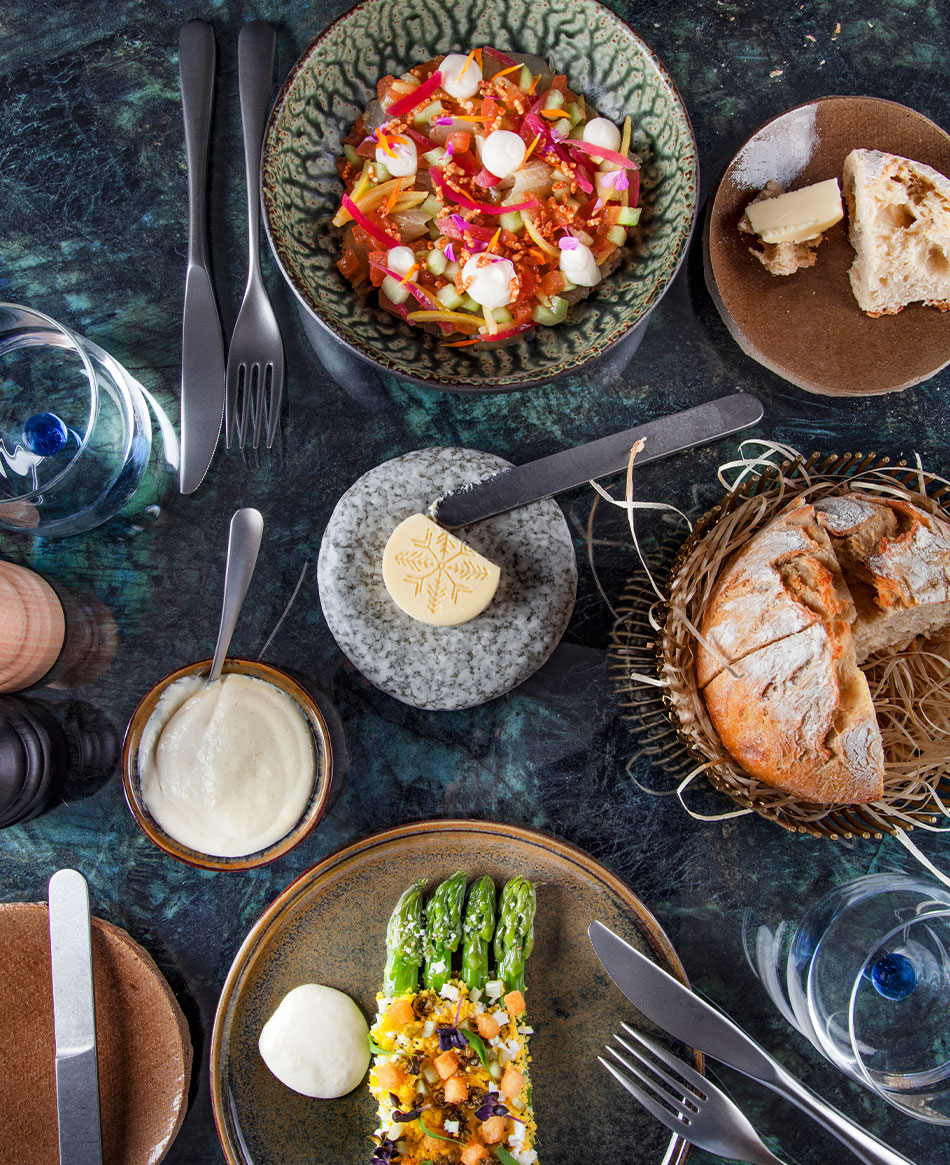 Bar & Tea Room
The tea room is the ideal place to enjoy a pastry at any time. An exceptional wine list awaits you, put together by head sommelier Florentin Clément, as well as cognacs and cocktails with or without alcohol, in collaboration with bar manager Antoine Schilling, who proposes original pairings based on kombuchas and fermentations.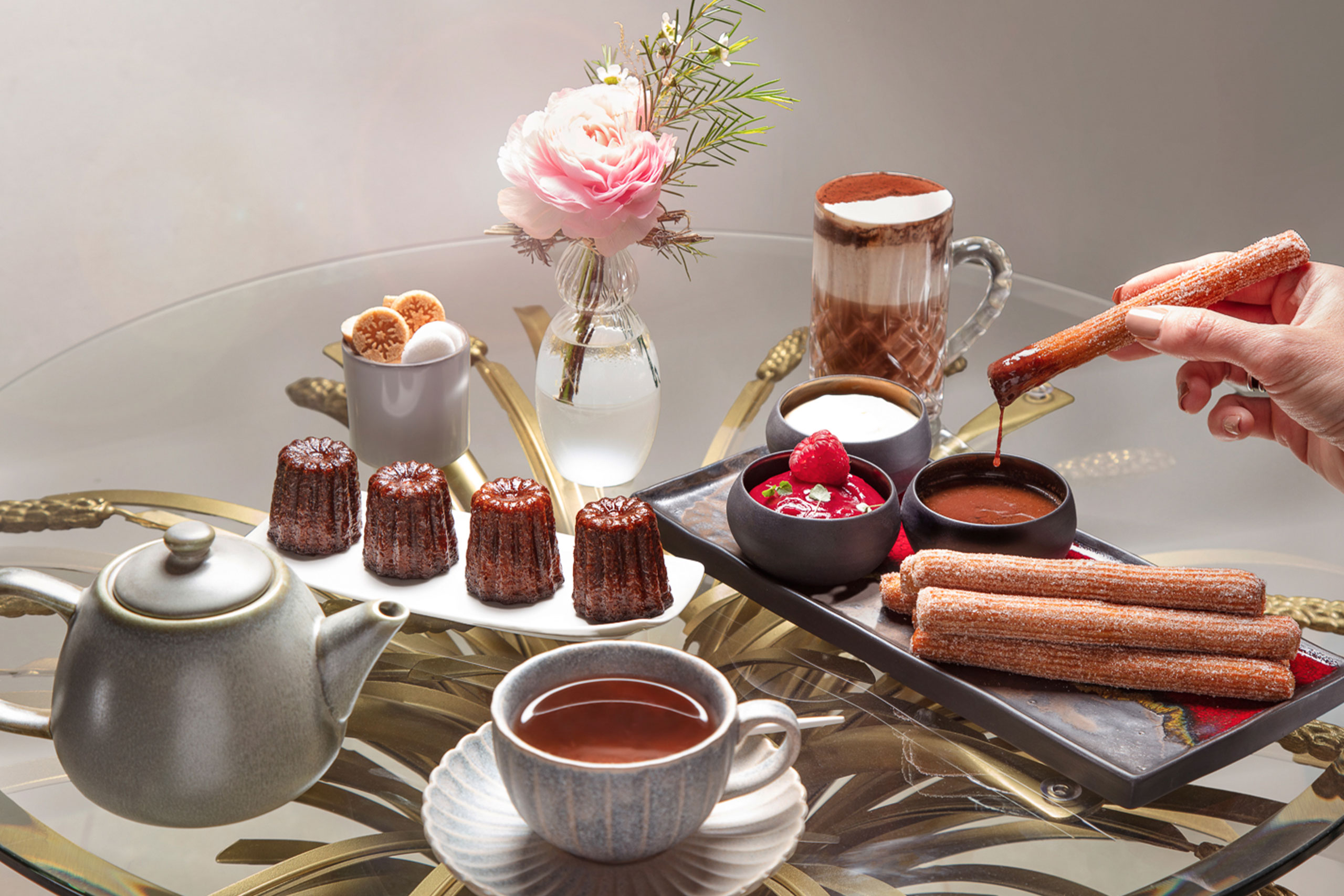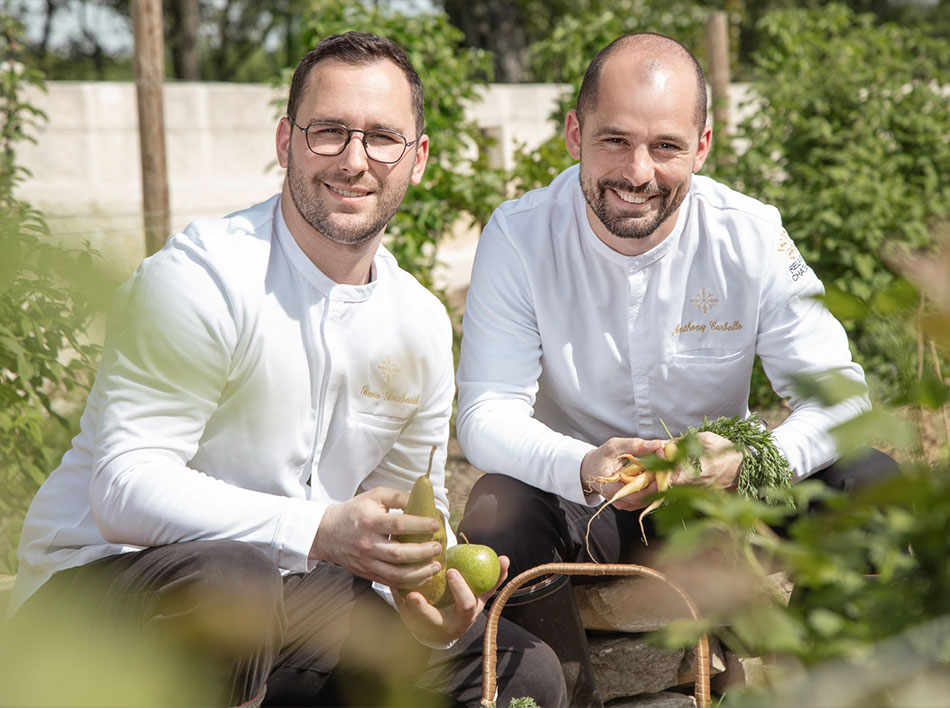 Chefs portrait
Anthony Carballo, chef and gardener
Originally from Tarn-et-Garonne, a region from which he has retained a few Occitan intonations, Anthony Carballo, 33, is a lover of the land and nature, and is completely at home in the La Nauve project, a bucolic garden hotel surrounded by vegetation. Pushing the experiment to the limit, he has installed beehives to produce his own honey, a henhouse for eggs, a citrus greenhouse, fruit trees, vines, a vegetable garden and a fishery.
The idea is not to aim for utopian self-sufficiency, but to cultivate a different relationship with nature, the garden and cooking. "Our vision of gastronomy at La Nauve is to create a link between the environment and our customers, to act as a relay to awaken our guests to the magic of our products. To show them that when you have the most beautiful vegetables, fruit and fish, you work with them simply, humbly, as close as possible to what they are. When the product is top-notch, the taste is there, all you have to do is add the cooking, i.e. the right temperature down to the last degree. Then we're right. That's our world, and we want to take people by the hand and take them to the garden to meet our producers, breeders, fishermen, market gardeners, bakers…".
An ultra-fresh and evolving menu, in tune with the rhythm of the kitchen garden, at once gardening and country, but above all deeply rooted in a region of good taste that includes forests, sea, cognac houses, farms…
Anthony is accompanied by Simon Souchaud, Pastry Chef.